News
​

October 2018

Tribological properties of nanoceramic coating compared to conventional hard anodizing and plasma electrolytic oxidation (PEO).

This study is focused on comparison of the microstructural features and dry sliding behaviour of the oxide layers grown on the same aluminium alloys under different surface treatment conditions, comparing nanoceramic coating with conventional anti-wear surface treatments such as hard anodizing with PEO.

In collaboration with University of Bologna Dept. of Civil, Chemical, Environmental and Materials Engineering (DICAM) and Department of Industrial Engineering (DIN), Alma Mater Studiorum, Bologna, Italy.
​
February 2017
Durable Plasma Reactor Electrodes with Nanoceramic Coating.
In collaboration with University of Sheffield. Supported by Innovate UK.
Plasma processing is widespread for synthesis of high performance materials. For most common types of plasma reactors the electrodes must be robust and also of high tolerance of the uniformity of thickness of ceramic coating, particularly for multiplexed microreactors. The project explores the application of coating developed by Cambridge Nanolitic to achieve the necessary level of tolerance and durability, and will test the plasma reactor fidelity and performance on an exemplar application to produce ozone-rich microbubbles for "green" laundry cleaning and water sterilisation.
​
June 2016
Multifunctional nanoceramic surfacing for Titanium implants.
In collaboration with University of Manchester. Supported by Innovate UK.
Project explores the technical feasibility of a novel nanoceramic surfacing for titanium implants developed by Cambridge Nanolitic to enhance their biocompatibility and osseointegration.
Cambridge Nanolitic provides Ti implants with nanoceramic surface to effectively combine the best features of metal implants such as high mechanical strength and formability with high biocompatibility, corrosion resistance and aesthetics of ceramics.
​
November 2011
Cambridge Nanolitic spins off Cambridge Nanotherm Limited (www.camnano.com) focused exclusively on electronic applications of nanoceramic coating.
Electronic substrates with nanoceramic dielectric insulation have a unique combination of high dielectric strength and thermal conductivity. LED industry leaders expressed interest to Nanotherm TM substrates for solid state lighting application. Investment for a spin off company was secured from a London based VC fund. Manufacturing plant for producing novel electronic substrates is built in Haverhill, Suffolk, UK
​
May 2010
Nanostructured surface with self-assembled Nanocomposites
Cambridge Nanolitic developed an original technology based on controlled processes of self-assembly and self-organization of colloidal nano-components during the formation of their complexes with polyfunctional ligands in a bulk liquid phase for functionalisation of nanoceramic surfaces.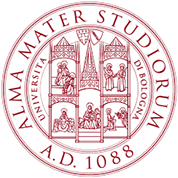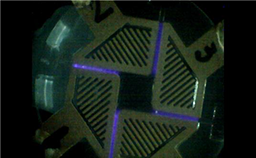 Electrodes of plasma reactor with Nanoceramic coating in operation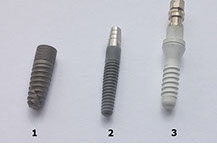 Titanium Dental implants with different finishes: 1. Etched Titanium surface; 2. TiUnite finish, Nobel Biocare; 3. Cambridge Nanolitic White.


TEM images of free floating nanofilm